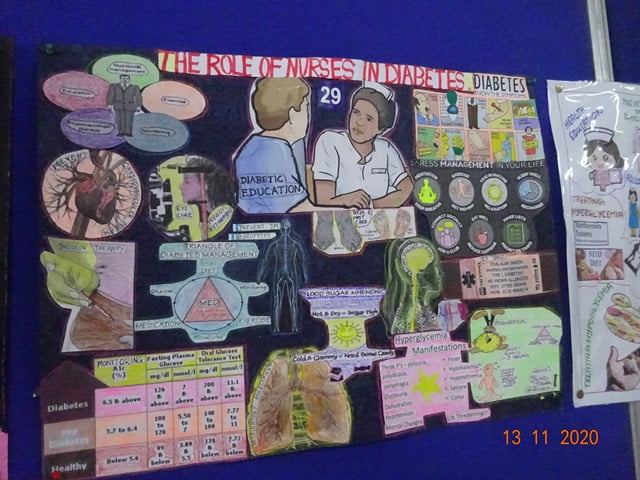 In order to express our solidarity for people living with diabetes & Suffering from COVID-19, to reinforce our commitment towards fighting this deadly disease, the Department of Endocrinology, organized a Poster & Slogan Competition on 14th November, 2020. The theme for the year was The Nurse and diabetes. There were more than 120 entries for the posters competition on the topic 'The Role of Nurse in Diabetes". And more than 90 entries for the Slogan Competition on a Topic "COVID & Diabetes".
Thematic posters & Slogans were judged by Dr. Gopinath, Professor, Dept. of Geriatric Medicine, CMC Vellore and Mrs. Diana David, Professor, Maternity Nursing CMC Vellore.
Winners for the poster competition are Ms. Catherin from KICU won the first prize while the second prize was bagged by Ms. Jasmine Elizabeth from O3W and Ms. Geethanjali from AK Lab, the third prize was shared by Ms. Sweatham from Accident & Emergency and Ms. Shabana Banu from A3 Ward. The Consolationprizes were awarded to Ms. Jansi Rani, Chittoor Campus, Ms. Kaviya. G from Q3 Ward, Ms. Sheeba Mabel from Labour Room, Ms. Lipika Murmu from G4 South, Ms. Emilinal from A1 Ward, Ms. Jasmine Joy Sweety from G3 South and Ms. Preethi Gaikwad from Chittoor Campus.
Winners for the Slogan competition are, the first prize went to Ms. Sangavi from Neuro ICU, 2nd prize shared by Ms. Christina from KNICU and Ms. Cinthiya Rachel Grace from K ward, 3rd prize shared by Mr. Raj Kumar from Specialty 1 Nursing, Ms. Hema Jiji from Pharmacy Services and Ms. Beaula Rose from P2 Ward.
---
Poster Competition Pictures - 2020
---
---