About
The Endocrine Molecular laboratory is a dynamic laboratory with its Next Generation Sequencing Platform (NGS). This laboratory offers genetic screening services with multiple gene panels, for variations in important genes involved in genetic disorders affecting adults and children. To cater to the needs of all patients, the laboratory receives genetic samples from other departments of the institution and various regions of India and provides it's services at a much affordable costs to patients.
Objective
The Molecular Endocrinology laboratory is equipped with advanced technology with which we aim to establish improved diagnostics, as well as study the pathogenesis of various endocrine diseases.
Equipment Unique to this LAB are listed below
Ion Torrent Next Generation Sequencer (NGS)
Ion torrent Personal Genome Machine (PGM)
Server
Ion Onetouch Instrument & Ion one touch Enrichment System
StepOnePlus Real Time PCR system with HRM Software - Agilent 2100 Bioanalyzer
Compared to conventional Sanger sequencing the ION Torrent Sequencer would deliver the fastest sequencing runs and overall work ?ow for targeted resequencing projects. This sequencing platform can also applied to do small genome sequencing like mitochondrial sequencing, RNA sequencing, ChiP Sequencing. It is scalable whether running single samples or multiplexing, or detecting germline or somatic mutations.
The StepOne Plus Real Time PCR system would be used for various quantitative real time PCR applications. The High Resolutions Melt software would be used to perform Genotyping, Mutation Scanning, and Methylation studies.
Agilent 2100 Bioanalyzer would be used for sizing, quantification and quality control of the DNA, RNA and proteins.
With this facility at our Molecular Endocrinology laboratory, our research would focus on various endocrine disorders listed below.
Maturity-Onset Diabetes of the Young (MODY)
Familial Lipodystrophy
Hyperinsulinism
Mutation detection of vitamin D receptors
Hypophosphataemic rickets
Hyperthyroidism
Syndromes of reduced sensitivity to Thyroid hormone
Next Generation Sequencing panels for Maturity -Onset Diabetes of the Young, Lipodystrophy / Insulin resistance, Osteogenesis Imperfecta and Acute Porphyria.
We have introduced Next Generation Sequencing panels for Maturity-Onset Diabetes of the Young (MODY), Lipodystrophy/Insulin resistance, Osteogenesis Imperfecta (OI) and Acute Porphyria (AP)gene screening in the Molecular Endocrinology laboratory, Department of Endocrinology, CMC, Vellore.
I. Maturity-Onset Diabetes of the Young or MODY affects 1-2% of people with diabetes, although it is often misdiagnosed as T1DM or T2DM and goes unrecognized.
The main features of MODY are:
Age of onset of Diabetes before the age of 25 years.
Autosomal dominant family history of Diabetes
Negative for autoantibodies (GAD and IA2 negative).
Absence of signs of insulin resistance and DKA
The MODY multiplex parallel sequencing for 13 genes, is the first of its type in the world, started by Endocrine laboratory in CMC, Vellore.
MODY is an autosomal dominant disease which is caused due to single gene mutation which is passed on by affected parents to their children (50% chance of inheriting). There are 13 different MODY genes reported till date. Next Generations Sequencing based genetic testing is now available for the complete panel of 13 MODY genes. (Test code: B1020, Service name : MODY – Gene Screening) (Clinical Endocrinology 2015).
The required information for MODY genetic testing is available at www.cmcendovellore.org/MODY-genetic-testing-form.pdf
It is important to confirm the subtype of MODY to provide appropriate treatment for the patient, perform family screening (advise other family members of their risk of inheriting it), provide genetic counselling and identify subjects early on with any signs of hyperglycemia.
II. Lipodystrophies are characterized by generalized or partial absence of adipose tissue and are typically considered in individuals with high insulin resistance. The NGS panel includes six genes implicated in partial and generalized Lipodystrophy/Insulin resistance: LMNA, AGPAT2, BSCL2, PPARG, INSR, and ZMPSTE24. (Endocrine Practice 2015).
III. Osteogenesis Imperfecta (OI) NGS panel include eight genes: COL1A1, COL1A2, IFITMS, CRTAP, SERPINH1, LEPRE1, PP1B, SP7. This gene set include autosomal dominant and autosomal recessive forms of OI and based on the literature it is expected that this test could provide>95% OI patients with a confirmed diagnosis. IV. Based clinical presentation diagnosis of specific Acute porphyria can be difficult because the Acute Intermittent Porphyria (AIP), Hereditary Coproporphyria (HCP), Variegate Porphyria (VP) acute porphyrias (AIP, HCP, VP) typically have similar clinical presentation, biochemical findings, and responses to treatment.
Therefore, NGS based parallel sequencing of all the three genes (HMBS, CPOX & PPOX )would be advantageous and could provide confirmed diagnosis in majority of the acute porphyria cases.
All the genetic are cost-effective, and cheaper by almost 20-fold when compared to than those done in western laboratories.
Genetic Tests Offered by (MEL) Molecular Endocrine Laboratory
---
Targeted Next-Generation Sequencing to test for MODY/ Monogenic diabetes panel
Till date around 31 genes have been reported to be implicated in monogenic forms of diabetes (Maturity Onset Diabetes of the Young, Neonatal diabetes & syndromic forms). Depending on the gene implicated the patients present with severe phenotype, such as pancreatic agenesis with neonatal diabetes and exocrine insufficiency, or a milder phenotype, with diabetes onset during adolescence or adulthood. A confirmed diagnosis is essential and would aid in providing appropriate therapy in a proportion and for genetic counselling and plan the course of management.
---
1. ABCC8  2. AKT2 3. BLK 4.CEL 5.CISD2 6.CP  7.EIF2AK3, 8.GATA6 9.GLUD1 10. HADH 11.HNF1A 12.HNF1B, 13.HNF4A 14.IER3IP1 15.INS 16.INSR 17. KCNJ11 18. KLF11 19.NEUROG3 20.PAX4 21.PDX1 22.PTF1A  23.RFX6 24.SLC2A2 25.WFS1 26.ZFP57 27.GCK 28.GLIS3  29.NEUROD1 30.FOXP3 31.APPL1
---
Hyperinsulinemic Hypoglycemia: 10 gene NGS panel include ABCC8, KCNJ11, GCK, HADH, HNF1A, HNF4A, INSR, GLUD1, SLC16A1, UCP2
Kallmann Syndrome: 4 gene NGS panel include KAL1, FGFR1, PROKR2, PROK2
PENS (Paediatric Endo New born screening) panel: Targeted NGS based screening of genes implicated in various inborn errors of metabolism and also in paediatric endocrine-related conditions.
---
This panel designed in MEL include a 126 gene panel covering the following conditions.
Amino Acid Disorders
Argininemia
Argininosuccinic aciduria
Beta-Ketothiolase deficiency
Biotinidase Deficiency
Carnitine palmitoyltransferase I deficiency
Carnitine palmitoyltransferase II deficiency
Carnitine uptake defect
Carnitine-acylcarnitine translocase deficiency
Citrullinemia type I
Citrullinemia type II
Cystic fibrosis
isorders of biopterin regeneration
Endocrine Disorder
atty Acid Oxidation Disorder
Galactosemia
Glutaric acidemia type I
Glutaric acidemia type II
Hearing Loss
Hemoglobin Disorder
Homocystinuria
Hypermethioninemia
Isovaleric acidemia
Kallmann Syndrome
Maple syrup urine disease
Medium-chain acyl-CoA dehydrogenase deficiency
Multiple carboxylase deficiency
Phenylketonuria
Pompe disease
Primary Congenital Hypothyroidism
Propionic acidemia
Severe combined immunodeficiency
Short-chain acyl-CoA dehydrogenase deficiency
Trifunctional protein deficiency
Tyrosinemia type I
Tyrosinemia type II
Tyrosinemia type III
Very long-chain acyl-CoA dehydrogenase def
X-linked Adrenoleukodystrophy
X-linked severe combined immunodeficiency
---
Hereditary Hemorrhagic Telangiectasia: 3 gene NGS panel include ENG, ACVRL1 and SMAD4 genes.
Tumoral Calcinosis: 3 gene NGS panel include GALNT3, FGF23 and KL genes.
NGS based mitochondrial genome sequencing – has shown to be very sensitive in picking up the heteroplasmies with <5% positive for mutations.
BRCA1 185delAG screening.
CAH eight hot spot screening.
CAH-NGS based five gene panel screening.
Lipodystrophy and Insulin resistance panel.
NGS based BRCA1 AND BRCA2 screening.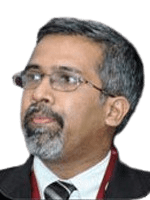 Dr. Nihal Thomas
MD., MNAMS, DNB(Endo), FRACP(Endo), FRCP(Edin), FRCP(Glasg) , FRCP (London), FACP, Ph.D (Copenhagen)
Professor & Head Unit-I,
Department of Endocrinology, Diabetes & Metabolism,
Christian Medical College, Vellore- 632004, Tamilnadu.
nihal_thomas@yahoo.com
Dr. Aaron Chapla,
MSc Medical Biochemistry, PhD Biochemistry
Scientist - Molecular Endocrinology Laboratory,
Associate Professor
Department of Endocrinology, Diabetes and Metabolism,
Christian Medical College, Vellore, 632004, India.
aaronchapla@gmail.com / endolabcmcvellore@gmail.com