Symposia and Training at Jaffna
Health professionals in the Northern Province of Sri Lanka were recently beneficiaries of a visit by a team consisting of three doctors and a nurse from the Department of Endocrinology, Christian Medical College, Vellore who conducted symposia and training on Diabetes Management for the staff. The visit was arranged by Dr. Aravinthan (Endocrinologist, Diabetic Centre, Teaching Hospital, Jaffna) and Dr. D.C. Ambalavanar (Visiting Lecturer in Surgery and an alumnus of CMC batch of 1975).
Symposia and Training:
The sessions were held primarily for, consultants, doctors, nurses and primary care physicians from the Teaching Hospital in Jaffna district and the mainland provincial hospitals. The nurses had separate, interactive and practical sessions, which were beneficial and self empowering. The importance of a multidisciplinary team and the significance of nurse educators for diabetes management.
Links between CMC and Jaffna in medical education: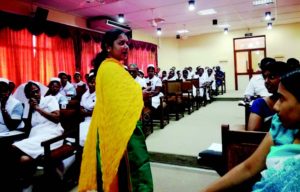 In addition to these symposia, the team also made two visits to the Jaffna Jaipur Centre for Disability and Rehabilitation where apart from attending to few patients they also provided advice on the basics of diabetic foot care and appropriate footwear for such cases.
The links between Jaffna and CMC were laid nearly two hundred years ago when the first medical missionary in the world, Dr. John Scudder the first (grandfather of Dr. Ida Scudder), established a medical clinic in the village of Pandeterippu. Another prominent figure here was Dr. Henry Green who has to his credit the translation of the entire Gray's anatomy into Tamil. The current training programme has only strengthened this bond and will continue to expand and upgrade medical education in collaboration.